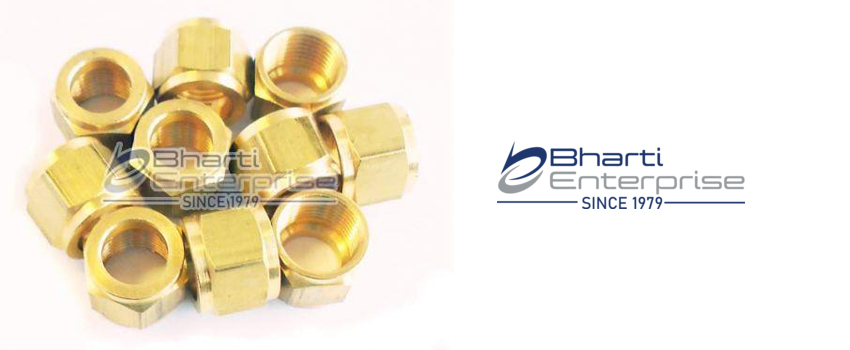 Brass Nut and bolts Manufacturers in Jamnagar are manufacturing rust-free and premium quality products and that's too at the best price.
Are you looking for reliable and trustworthy Brass Nut and bolts Manufacturers in Jamnagar? Yes, there are lots of companies who are rightly serving the needs of the customers at the best level. The best quality brass products are made according to international standards. The company is ISO 9001:2000 accredited, making sure the activities conform to the highest assurance method. The team is committed to complete excellence through continual development in all areas of business procedure and to differentiate ourselves by the quality, delivery, and affordability of the product and services.
List of Products Available
Most of the common sorts of nuts and bolts comprise barrels, coupling, cap nuts, cage, crushed, cross dowel, plates, flange, inserts, lugs, panels, internal wrenching, knurled nuts, weld nuts, staked, Hex Nuts, plate nuts, split nuts, swage nuts, self-aligning nuts, Carriage Bolts. The products are simply perfect for different uses.
Top Features associated with Brass Nut and bolts
Rugged construction
Made of brass, the nuts and bolts are made with rugged construction. They have a long life and a tough process.
Easy installation
The best thing about the product is that they are easy to install and anyone can install them without any difficulty.
Rust resistance
The rust-free quality makes them one of the best choices among buyers. Its treated surfaces and enhanced strength add to the outstanding durability.
Size
The best quality brass bolts and nuts in Jamnagar are available in different sizes. So, the selection won't be problematic for you.
Serving Different Industries
Almost every industry has special demands for brass nuts and bolts. There is a special requirement by
• Chemical Industries
• Oil and Gas Industry
• Building & Construction
• Marine industry
• Petrochemical industries
• Defense & Aerospace
• Automobile Industry
Even after a prolonged bumpy ride engaged in the quality of materials and irregular standards of shape and size, now we have finally reached a stage where a nut from one business and a bolt from another can fit rightly together. Now, they are available in different standard sizes to execute particular applications to fulfill wide industry demands.
Lighter, stronger, and easy-to-use are some of the real challenges the fastener industry is facing and profitably managing now. Self-sealing and self-locking screws, nuts, bolts, and threaded inserts have also turned now quite common. The biggest challenge now undoubtedly is to produce environment-friendly fasteners which don't use carcinogenic plating.
No matter, where you are living, it is extremely easy to place your order with a manufacturer such as Bharti Enterprise India which is readily available to serve your needs at the best. The interested buyer can easily place the order online and after making payment can get the delivery without any difficulty. It is extremely easy to get the best quality from the brass nut and bolts manufacturers. Payment is accepted in different modes.